Zalto Universal Hand-Blown Crystal Wine Glasses Boxed Set of 6 BRAND NEW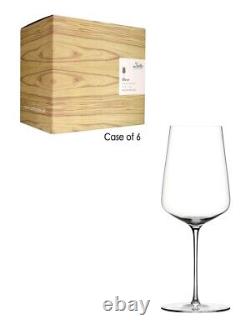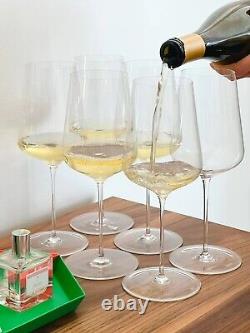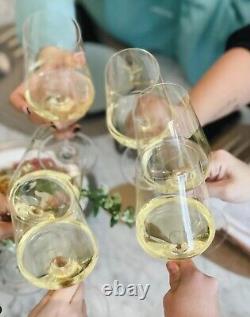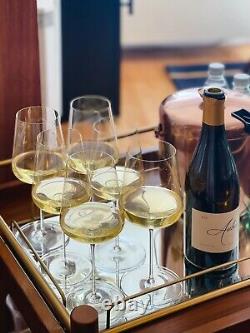 UNUSED, BRAND NEW IN ORIGINAL BOX AND WRAPPING. Elevate your wine drinking experience with these beautiful Zalto Universal Hand-Blown Crystal Wine Glasses. Crafted with precision and detail, these glasses are made from high-quality glass material and have a capacity of 400 ml. The clear color and elegant design add a touch of sophistication to any occasion.
WHY ARE ZALTO GLASSES BETTER? The Zalto brand arrived 20 years ago, introducing a lighter, thinner, straighter, sleeker glass design. What was most remarkable about Zalto was its bold claim to have a single glass for all wines: the Universal. It became very desired by wine professionals because it put its neck out and said it could handle anything,' explains Jan Konetzki, director of wine at Four Seasons. I really feel Zalto upped the level of glassware; there was nothing like that at the time, so I was one of the first sommeliers to put Zalto in at Gordon Ramsay,' continues Konetzki. Its flat base doesn't allow any faults to hide; it's a very direct presentation of aromatics and flavours. The oak comes through more strongly and the core is more enhanced, making it ideal for modern wine styles. Praise from top sommeliers and wine critics began pouring in from all over the world. All of the Zalto glasses are lead free.
The line is produced by the Zalto Glasshutte in the town of Neunagelberg in Lower Austria, where the art of glass blowing goes back to the early 14th century. The roots of the Zalto family, six generations now in this region, reach back to the famous glass artisans of Venice.
This brand-new, unused boxed set of 6 wine glasses is perfect for wine enthusiasts, professionals and collectors alike. Each glass is branded with the Zalto logo, a symbol of the brand's commitment to excellence.
Hand-blown and designed to enhance the aroma and taste of any wine, these glasses are a must-have for any wine lover.

---