AJKA KING LOUIS / XENIA Colored Crystal Wine Goblets Glasses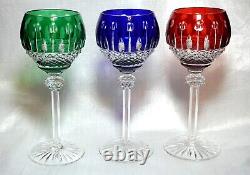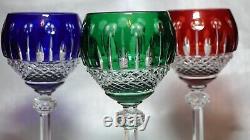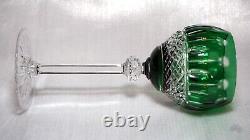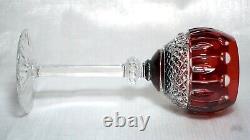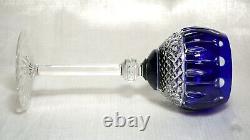 AJKA Crystal Wine Goblets 7? " King Louis / Xenia " Pattern. These beautiful wine goblets were manufactured in Hungary by the famous glassmaker AJKA.
This elegant pattern is called "King Louis". Each Goblet is 7 7?
Inches tall and comes in 3 different colors. Comes without any original packaging. The products from Ajka Crystal belong to the highest segment of the glassware and crystal ware market.
The company produces luxury tableware, like cups, glasses, carafes, bottles, vases and bowls, and luxury gifts. AJKA Crystal makes goods for luxury world companies like : Baccarat, Bulgari, Bentley, Cristal De Paris, Christofle, Christian Dior, Daum, Fabergé, Hennessy, Henry Jacques, Moser, Polo Ralph Lauren, Richard Ginori, Rosenthal, Rolls Roys, Saint Louis, Tiffany, Val Saint Lambert, Versace, William Yeoward, Waterford, etc. The plain crystal glass item dipped into melted colored crystal glass and then manually with tools cut out the upper colored layer of glass to show the underneath clear crystal layer with a specific pattern.
It is not an easy task. The process to create colored crystals is labor intensive and requires a lot of manual craftsmanship. Some air bubbles in crystal glass naturally appear during production. We didn't find any, but we could simply overlook it.
Also some asymmetry in pattern is permissible because decoration is a complicated handmade process described above. (We didn't find any either at this piece) See photos for more details. In 1879 Benat Neumann founded the glass factory in the town of Ajka in Hungary. In the mid 1880s the company received awards for its exquisite products.
Although he controlled the market in the far surroundings of Ajka, Neumann understood that his company was not large enough to survive on its own. The factory encountered two world wars and the great depression. In the mid 1950s the production went into the right direction again and the workers at Ajka could be once again proud of their company and products. Ajka started in 1964 with cut lead crystal, in clear but also in colors, and this was a success.
Exports of Cut Crystal products increased to all parts of the world. In 1989, the American-Hungarian businessman, Gabor Varszegi, bought the company and since then Ajka Crystal is part of the Fotex Group. At present time the company is one of the largest manufacturers of luxury crystal.
All Arts, Crafts, Collectibles, Antiques and Vintage products are non - returnable.

---